Forget about "lions, tigers, and bears".   Book 11 of The imagination Station series has saber tooth tigers and dragons!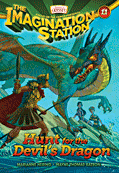 Hunt for the Devil's Dragon
In " Hunt for the Devil's Dragon" cousins Patrick and Beth again find themselves on an adventure, but this time in 13th century Libya where not only a beast is killing the people of  the village of Silene, but the villagers are practicing human sacrifice in an attempt to appease the beast.  Beth finds herself as one of the sacrifices along  with Sabra, a young villager.
Patrick finds himself as a daring hero riding to a nearby town with his new found friend Hazi to find Georgius a converted Rome soldier to help the two young girls.   The three return to the village to rescue the girls, but what do they find? You have to read the book to find out!
******************************************************************************
Disclosure: Tyndale graciously provided "Hunt for the Devil's Dragon" in exchange for review.  The opinions contained in this post are the personal opinions of mamawearslisptick.com.